Am I avoiding my fears?  God seems to think so, because everything I've been seeing lately involves this idea that fear must be overcome to achieve greatness.
Exhibit A: Crossroads church posts their weekly sermons online.  The other night, Reece thought it would be neat to go back and listen to the message that inspired our adoption.  It's amazing how malleable memories are!  I thought the talk was about fulfillment or what inspires you. Needless to say, I was wrong.  Here's the sermon. If you watch it till the end, you'll hear the speaker pray for couples considering adopting.  I truly believe this prayer was meant for us.
http://www.crossroads.net/my/media/playVideo.php&idMedia=2225
Exhibit B: I'm stuck on these Ted Talks.  Usually I just go to YouTube and click on one of them that sounds interesting.  This one took me by surprise although, judging by the title, it shouldn't have:
There's more examples but you get the idea….I believe God is showing me how fear has become an obstacle in my life. So what do I fear? Here's my quick non-exhaustive list:
1) Snakes: my father had the bright idea of putting a dead snake in a jar of formaldehyde and presented it to his 6-year-old son as a gift .  Thanks Dad!
2) Sickness and debility or becoming dependent on others: I see how fragile people are and it scares me.
3) Vampires: my sister caused this one–telling me that Dracula would suck my blood if I fell asleep.  I still sleep with my covers pulled up tightly over my neck.
4) Not providing or supporting my family: I think a lot of men struggle with this one.
5) Squiggly play doh: actually, I'm more disgusted by this than scared…I think.
6) Looking stupid or being unprepared: don't we all fear this?
7) Failing to reach my potential
8) Heights: which sucks when you have a limb on your roof or a swing that needs hanging.
9) Losing a loved one
10) Michael Meyers:  not the comedian the masked maniac
I tried finding recent gallop poles about fear but only found this one from 2001: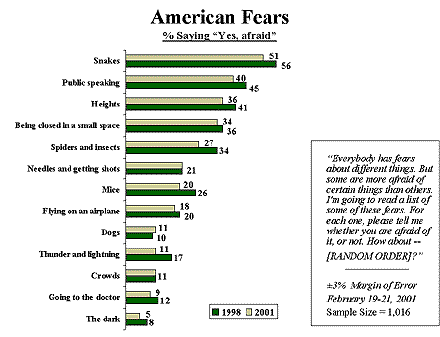 Good to know that I'm not alone in fearing heights and snakes…damn snakes!  Just thinking of those slithery guys makes me squirm.
As I looked through my list, I found a few red flags.  Other than my constant disgust of squiggly play doh…my main "current" fears are:
not providing enough for my family and looking stupid.
How many guys can relate to this?  Even though we're becoming a two income society where husbands and wives share duties, men continue to be the main providers in the majority of homes. But I think the reason for this is more than sociological.
My wife and I have discussed our purpose in life several times.  For Reece, being a mother and nurturing a loving family is everything. I can't think of a better purpose than that and if I wasn't being completely honest here, I would agree.  But my purpose is different and I think a lot of guys can relate.  This is a work in progress and the reason for this blog is to hammer it out, but currently my purpose is to become a force of inspiration for others and use my gifts to their fullest potential.
I know…I look at those words and say to myself, "what the hell does that even mean?"
You could say my purpose is self actualized through parenthood and you're right, but there's more.  Whether this is right or wrong is anyone's opinion, but I think a lot of men can relate to this next statement.  It's as though we have this drive to succeed and achieve greatness…something bigger than ourselves.  Parenting a child has the potential to effect numerous lives and is something great….but I'm talking more about personal achievement here.  I wish I could say that my sole goal in life is to be an awesome father, husband, son and while this is in my vision, my spirit yearns to achieve something that expands out to as many people as possible.
How is God pushing me in this direction?
It's just an urge right?  Maybe it's not God.  Maybe it's a form of discontent that all 40-year-old men go through.  That's a valid point, but as I look at my life, I see moments where I have listened to this voice and followed it.  The latest example is our adoption. The emotion and power that God "pushed down and pressed through" both my wife and I was astounding, but I can't expect every decision to be that clear.  I can't expect God to make everything that easy.  I believe the adoption was a nonnegotiable–something I agreed to before I came into this world, therefore the decision was set…lock, stock and barrel.  This present situation is different.
Where are my fears pushing me?  To be a better husband, father, worker, brother, son….to be a better person…
….and it's terrifying.